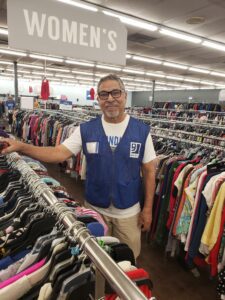 In honor of National Hispanic Heritage Month and on the heels of National Employ Older Workers Week, we want to feature one of our program participants and employees, Jose!
In March 2022, Jose was referred to our Senior Community Service & Employment Program (SCSEP)* from The Office of Vocational Rehabilitation and was placed at the Paducah Goodwill to complete his paid training. In this role, he demonstrated strong work ethic, determination and a positive attitude. In September 2022, Jose applied for and was hired as a fulltime production clerk at the Paducah store!
Jose says he is grateful for the SCSEP program, which helped him meet his employment goals. He loves his job and looks forward to going to work every day.
Kenna Elkins, store manager, said, "Jose is a hard worker, and we are lucky to have him as a team member!"
*SCSEP is designed to link low-income, older workers to on-the-job training that can help them move into paid employment. Through a national Department of Labor (DOL) grant, Goodwill organizations across the country help ensure that more than 100,000 low-income workers over age 55 are aided by the SCSEP program annually. For more information, visit www.goodwillky.org/scsep.