LOUISVILLE, KY. – Goodwill Industries of Kentucky formally kicked off its centennial celebration Wednesday at a community event that spotlighted donors who are helping to fund its Opportunity Campus in West Louisville, revealed the official name for the site and provided construction updates on the project, which included details on its Minority Business Enterprise (MBE) construction goals.
Goodwill executives discussed the impact the nonprofit has had in the commonwealth since 1923 and emphasized its commitment to make 2023 the year it takes the biggest and boldest mission-related steps in the organization's 100-year history.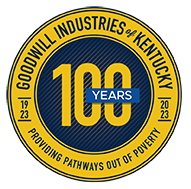 "The Opportunity Campus we're building in West Louisville is the single largest investment our Goodwill has ever made," said Amy Luttrell, president and CEO of Goodwill Industries of Kentucky. "However, by the end of 2023, we will have established 10 other smaller Opportunity Centers throughout the commonwealth that will provide a combination of free resources to help Kentuckians build self-sufficient lifestyles."
Last February, Goodwill joined Norton Healthcare in announcing a $100+ million commitment to build an Opportunity Campus in the Parkland neighborhood where the health care operator will build the first comprehensive hospital in West Louisville in more than 100 years and Goodwill will construct a 124,000-resource center that will house a collection of local social service agencies that anticipate serving approximately 50,000 people every year.
Goodwill officials announced that the West Louisville campus has officially been named the Norton Healthcare Goodwill Opportunity Campus.
Goodwill's other Opportunity Centers are currently operating or are under construction in Bowling Green, Corbin, Elizabethtown, Lexington, Morehead, Paducah, Pikeville, Somerset and 6201 Preston Highway and 909 E. Broadway in Louisville.
"Our Goodwill operates in 103 of Kentucky's 120 counties," said Luttrell. "These uniquely located Opportunity Centers give us the ability to impact Kentucky in important ways by offering solutions to poverty that will help men and women overcome barriers that have prevented them from finding success in the workforce."
'Opportunity is Knocking' FUNDRAISING CAMPAIGN
Goodwill also used the event to spotlight recent donations from businesses, foundations and its employees who have contributed to the $15 million fundraising campaign it launched last year to help provide gap funding for the nearly $50 million facility it is building in West Louisville as part of the Norton Healthcare Goodwill Opportunity Campus.
With a recent $500,000 donation from the Jewish Heritage Fund, Goodwill has surpassed $9 million in funds raised for the project.
Employees for Goodwill have also contributed to the fundraising campaign by generating more than $170,000 from approximately 200 part-time and full-time staff members who are committed to support the organization's historic investment in its mission to help people find pathways out of poverty.
The Opportunity is Knocking fundraising campaign runs through 2023 and donations to Goodwill can be made at www.GoodwillWestLouisville.com.
MINORITY BUSINESS GOALS
In addition to its commitment to serve participants seeking to escape poverty, Goodwill announced it has established minority construction and workforce goals for the campus.
The organization plans to spend no less than 27 percent of its total construction costs with minority businesses for the Opportunity Center. It also established a goal that 25 percent of the construction workforce would be made up of minorities.
Although construction of the 124,000 square-feet campus began in the fall of 2022 and is still in its early stages, leaders for the project announced it is currently meeting each of its respective goals related to minority representation.
As of early December 2022, 32 cents of every dollar spent for the construction of the Norton Healthcare Goodwill Opportunity Center in West Louisville is going to African American-owned businesses from the Greater Louisville area.
"It wasn't enough for us to simply move our headquarters and other operations to West Louisville. It was also important that we made sure minority businesses and workers from the area were able to benefit from this historic investment," said Luttrell.
COMMUNITY IMPACT
The Norton Healthcare Goodwill Opportunity Campus has an expected annual economic impact of $18.7 million in West Louisville, a nine-neighborhood community where the median household income is $21,000. It has left many of its 65,000 mostly African American residents underserved in a community with limited employment opportunities.
The campus is expected to bring more than 300 full-time jobs to West Louisville with average salaries of approximately $60,000. The Opportunity Center on the campus is expected to serve more than 50,000 people every year and help place more than 600 job seekers into full-time employment with businesses throughout the region that pay a minimum of $13 per hour.
The Opportunity Center will support a holistic approach to serve job seekers who are working to overcome barriers to employment, including addictions, justice-involved backgrounds, education deficiencies, limited workforce histories, childcare challenges and transportation.
In June 2022, Goodwill broke ground and began construction on the campus. Ultimately, individuals will be able to use the campus to connect with community partners and self-sufficiency resources, including career coaching, job training, youth mentoring, soft skills training, restorative justice programs, expungement services, second-chance banking, free drop-in childcare and dental services.
To learn more about the Opportunity Campus and/or to help support the project, visit www.GoodwillWestLouisville.com.
About Goodwill Industries of Kentucky
Goodwill Industries of Kentucky is a 100-year-old nonprofit organization that operates in 103 of Kentucky's 120 counties. The organization is committed to using resources from its 67 retail stores to help build pathways out of poverty for individuals who need a hand up in life. In 2022, Goodwill helped place 2,368 Kentuckians into jobs with 877 of its employer partners and inside its own retail stores. Goodwill uses approximately 90 cents from every dollar generated in its retail stores to operate programs and services that help Kentucky's hardest-to-serve job seekers build the life they desire.