Goodwill Industries of Kentucky Manager of Public Relations and Community Engagement Ben Haydon is featured in the Leadership Kentucky Class of 2023, which was announced today.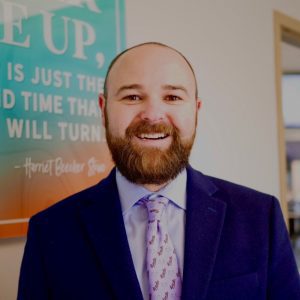 Leadership Kentucky's flagship program consists of seven, three-day sessions, where participants gather to gain insight on the Commonwealth of Kentucky and its challenges and opportunities. Throughout the sessions, class members will meet with many of Kentucky's current leaders and explore the state's opportunities and resources. Participants will have the opportunity to form lifelong connections and visit communities.
The June through December program will bring the class across the state: Berea in June, Louisville in July, Paducah/Eddyville in August, Somerset in September, Bowling Green in October, Northern Kentucky in November, and Central KY/Frankfort in December. The sessions cover topics ranging from business and economic development, arts and tourism, natural resources and the environment, education, healthcare, diversity, and social issues, agriculture, and government.
This year's class includes 52 participants from across the state representing a variety of public and private sectors. Leadership Kentucky congratulates the following members:
Kim Baker – Jefferson County – Kentucky Performing Arts
John Bevington- Franklin County – LGE-KU
Heather Campbell – Jefferson County – Honorable Order of Kentucky Colonels
Colleen Chaney – Madison County – Eastern Kentucky University
John Cox – Fayette County – Kentucky Chamber of Commerce
Douglas Craddock, Jr. – Jefferson County – University of Louisville
Tiffany Craft – Letcher County – City of Whitesburg
Darrin Croucher – Woodford County – Thoroughbred Engineering
Lee Crume – Kenton County – BE NKY
Tokwiny Da-Thong – Jefferson County – Amazon
William Downey – Jessamine County – R. J. Corman Railroad Group
Jennifer Fraker – Oldham County – Kentucky Council on Postsecondary Education
Chris Francis – Boone County – KY/WV YMCA State Alliance
Heather Gate – Warren County – Connected Nation
Abbie Gilbert – Jefferson County – Humana
John Hampton – Fayette County – Acrisure, LLC dba GCH Insurance Group
Dalton Hatfield – Fayette County – Appalachian Regional Healthcare
Ben Haydon – Fayette County – Goodwill Industries of Kentucky
Amanda Henson – Oldham County – Baptist Health
Debra Hess – Pike County – Community Trust Bank, Inc.
Jill Horn – Jefferson County – Brown-Forman
Ashley Ireland – Calloway County – Murray State University
Jeremy Jarvi – Jefferson County – LouCity & Racing Foundation
Timothy Johnson – Fayette County – United Way of the Bluegrass
Kandi Justice – Pike County – Pikeville Medical Center
Julie Kirkpatrick – Boone County – meetNKY| Northern Kentucky CVB
Justin Lane – Montgomery County – Kentucky American Water
Blake Layfield – Marion County – Maker's Mark
Dorothy Lockhart – Fayette County – CHI – Joseph Health Partners
Daniel Maloney – Jefferson County – Louisville Zoo
Jeremy Mattox – Scott County – Kentucky Court of Justice
Haley McCoy – Madison County – Kentucky Association for Economic Development
Stephanie McMahan – Madison County – US Bank
Anne-Tyler Morgan – Fayette County – MMLK
Ben Mudd – Marion County – Pharmacists' Association
Jennifer Nachreiner – Jefferson County – Aetna Better Health of Kentucky
Chris Nation – Jefferson County – RunSwitch PR
Katherine North – Jefferson County – Kentucky Association of Health Plans
Steven Phillips – McCreary County – Lumber King, Inc.
Aaron Poynter – Russell County – Putting Kentuckians First and Reentry with the Kentucky Office of Adult Education and the Education and Labor Cabinet
Chris Purvis – Oldham County – MCM CPAs & Advisors
Janet Ratliff – Rowan County – Morehead State University
Carlos Sanchez – Oldham County – AT&T Kentucky
Robert Simmons – Kenton County – EGC Construction
Camden Skidmore – Fayette County – South Central Bank
Jared Smith – Fayette County – Piper-Smith
Megan Stith – Meade County – Elizabethtown Community and Technical College
Amy Stroud – Pulaski County – Forcht Broadcasting Radio & Digital
Judy Vaughn – Estill County – Estill County Cooperative Extension
Mackenzie Wallace – Jefferson County – Alzheimer's Association
Jeremy Whitmore – Calloway County – Calloway County Tourism Commission
John Willoughby – Floyd County East Kentucky Network, LLC