LOUISVILLE, KY. – Goodwill Industries of Kentucky is asking its partners, supporters and neighbors to contribute to the biggest mission-related project in its 99-year history by making a financial donation that will help complete its $50 million campus in West Louisville and 10 other resource centers it will build and sustain throughout the commonwealth.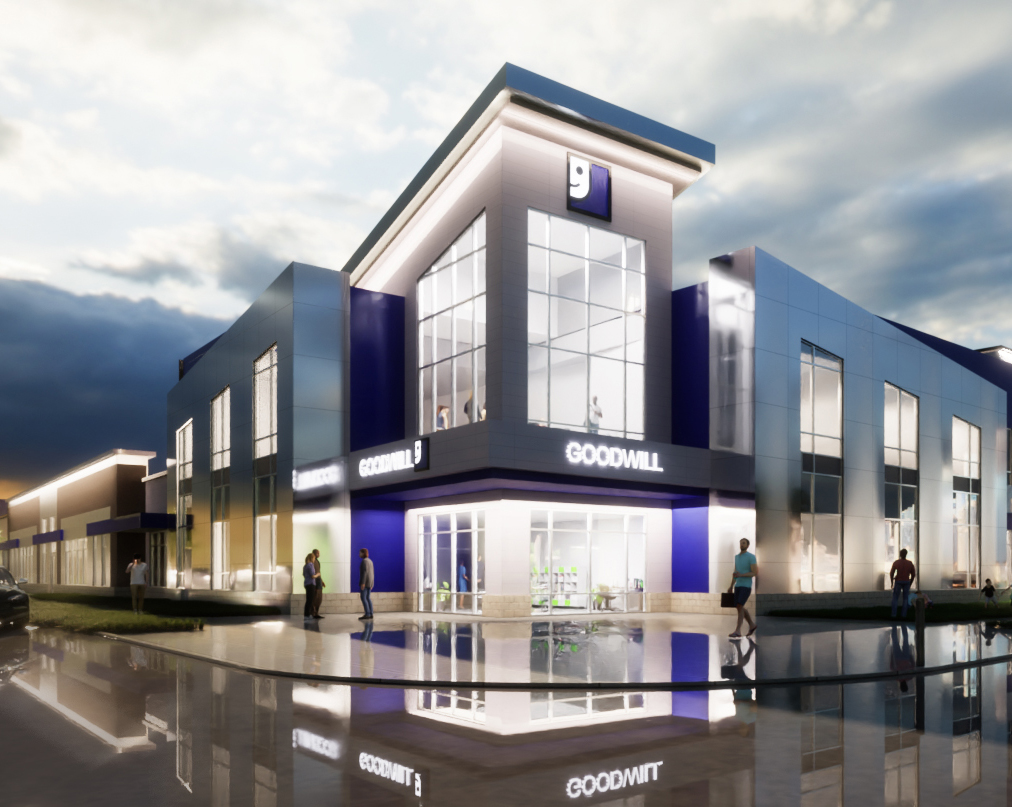 "We launched a $15 million fundraising campaign as a way to ask the community to join us in taking a bold approach to transforming the lives of thousands of people who need a hand up in life," said DeVone Holt, chief external affairs officer for Goodwill industries of Kentucky and the lead fundraiser for the organization. "Big problems require big solutions, and the Opportunity Centers we're opening will provide Kentucky a large-scale solution to its workforce problem."
Earlier this year, Goodwill announced it would build a 124,000-square-foot Opportunity Center at the corner of 28th and Broadway in West Louisville's Parkland neighborhood that will serve as a one-stop location of resources for people who are pursuing pathways out of poverty.
In addition to housing Goodwill's social services and programs, the West Louisville Opportunity Center will include Big Brothers/Big Sisters, KentuckianaWorks, Volunteers of America, Park Community Credit Union, the Kentucky College of Barbering, University of Louisville School of Dentistry, Legal Aid Society and the YMCA as co-located partners. In a separate building on Goodwill's Opportunity Campus, Norton Healthcare will open the first hospital in West Louisville in more than 150 years.
Through its collective partners, Goodwill's Opportunity Center will provide career coaching, job training, youth mentoring, financial literacy training, second-chance banking, soft-skills training, restorative-justice programs, expungement services, free drop-in childcare, dental services and free grooming services that are expected to serve approximately 50,000 people every year in one of Louisville's most underserved communities.
In addition to its West Louisville Opportunity Center, Goodwill has plans to build and sustain 10 other Opportunity Centers throughout Kentucky, which include two more in the Louisville area (909 East Broadway and 6201 Preston Highway) and centers in Bowling Green, Corbin, Elizabethtown, Lexington, Morehead, Paducah, Pikeville and Somerset. The West Louisville Opportunity Center will be the biggest and most comprehensive of the centers, but they will all operate as a one-stop locations for people in communities throughout Kentucky to access resources from Goodwill and its respective community partners.
"This is an unprecedented investment that is aligned with our mission to help Kentuckians find pathways out of poverty," said Holt. "As Goodwill prepares to celebrate its 100-year anniversary in 2023, we wanted to do something that would make a lasting impact in our community by thoroughly preparing thousands of people to live self-sufficient lifestyles. With the community's help, this project will achieve that goal."
At the Opportunity Campus in West Louisville, Goodwill and Norton Healthcare will collectively bring more than 300 full-time jobs to the underserved community with average salaries of approximately $60,000. Goodwill's Opportunity Center on the campus is expected to serve more than 50,000 people every year and help place more than 600 job seekers into full-time employment with businesses throughout the region that pay a minimum of $13 per hour – creating a cumulative annual impact of $18.7 million.
To help Goodwill build and sustain its Opportunity Centers, the nonprofit organization is asking community members, businesses and philanthropists to support its goal to raise $15 million by the end of 2023.
Here's how you can donate:
Visiting GoodwillWestLouisville.com
Texting GoodwillKY to 801801
Mailing a check to the Goodwill headquarters located at 1325 S. 4th Street, Louisville, KY 40208
"This nonprofit social enterprise we operate at Goodwill would not be possible without the continued donations of people who appreciate the convenience of our stores, the transformational outcomes of our mission work and the lives we impact for the better every day," said Holt.
About Goodwill Industries of Kentucky
Goodwill Industries of Kentucky is a 99-year-old nonprofit organization that operates in 103 of Kentucky's 120 counties. The organization is committed to using resources from its 67 retail stores to help build pathways out of poverty for individuals who need a hand up in life. In 2021, Goodwill helped place 2,636 Kentuckians into jobs with 871 of its employer partners and inside its own retail stores. Goodwill uses approximately 90 cents from every dollar generated in its retail stores to operate programs and services that help Kentucky's hardest-to-serve job seekers build the life they desire.