LOUISVILLE, KY. – Goodwill Industries of Kentucky has hired Jon Eller as vice president of property and facilities. Eller joins the organization with more than 20 years of experience in construction and facilities.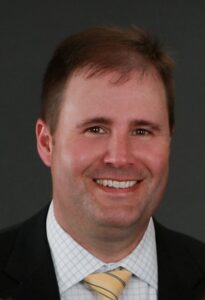 In his role as vice president of property and facilities for Goodwill Industries of Kentucky, Eller executes, administers, oversees and coordinates planning, construction, maintenance, renovation, major repair activities and purchasing of all land and/or Goodwill facilities across the nonprofit's 103-county territory. That includes administrative buildings, retail stores, transportation hubs and career service locations.
Eller comes to Goodwill Industries of Kentucky from Goodwill of Central and Southern Indiana, where he spent 11-plus years in facilities, real estate and construction. Most recently, Eller served as the director of real estate and construction.
"I have been blessed to be a part of the Goodwill movement since 2011," Eller said, "and I am passionate about the mission of Goodwill. I am extremely excited and grateful for the opportunity to join Goodwill Industries of Kentucky and help to further the mission impact that the organization has on individuals and families across the commonwealth."
While at Goodwill of Central and Southern Indiana, Eller was responsible for the organization's real estate portfolio, totaling 102 locations and 2.5 million square feet across 39 counties in central and southern Indiana. He managed over $55 million in owned assets and an overall annual occupancy budget of $23 million, including retail, educational, mission and contract services properties.
Eller completed the Goodwill Industries International Senior Leader Program in 2017 and the Executive Development Program in 2022.
Eller began his professional career at Cornerstone Residential Builders, Inc. in Holly Springs, North Carolina, where he led the construction of high-end custom homes for eight years. He graduated from Presbyterian College in Clinton, South Carolina with a B.S. in business.
About Goodwill Industries of Kentucky
Goodwill Industries of Kentucky is a 99-year-old nonprofit organization that operates in 103 of Kentucky's 120 counties. The organization is committed to using resources from its 67 retail stores to help build pathways out of poverty for individuals who need a hand up in life. In 2021, Goodwill helped place 2,636 Kentuckians into jobs with 871 of its employer partners and inside its own retail stores. Goodwill uses approximately 90 cents from every dollar generated in its retail stores to operate programs and services that help Kentucky's hardest-to-serve job seekers build the life they desire.