LOUISVILLE, KY. – Goodwill Industries of Kentucky has recently taken unprecedented strides to create pathways out of poverty for Kentuckians and will use the month of November to celebrate the contributions donors have made to support its new programs and services.
The nonprofit organization will use Donor Appreciation Month to recognize and thank supporters who have made financial contributions, donations to one of its stores and/or offered their time and expertise all to undergird Goodwill's mission.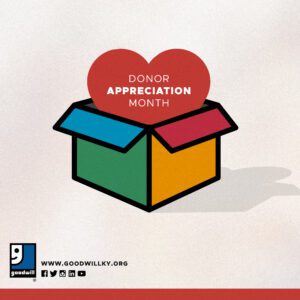 The nearly 100-year-old organization is commonly known for its thrift stores – but it's so much more than that. It uses nearly 90 cents of every dollar generated at its stores and donation centers to fund its career services that affect more than 20,000 individuals each year. Anyone who has donated items at its stores, rounded up at its registers during a purchase or donated monetarily has played a part in reducing poverty in the commonwealth.
"This nonprofit social enterprise we operate at Goodwill would not be possible without the continued donations of people who appreciate the convenience of our stores, the transformational outcomes of our mission and the lives we impact for the better every day," said DeVone Holt, chief external affairs officer at Goodwill Industries of Kentucky.
Recently, Goodwill broke ground and began construction on its West Louisville Opportunity Campus, where it will collaborate with partners to provide career coaching, job training, youth mentoring, soft skills training, restorative justice programs, expungement services, second-chance banking, free drop-in childcare and dental services for residents in the area.
The Opportunity Campus is the largest mission-related project in the 99-year history of Goodwill Industries of Kentucky. In addition to Goodwill's one-stop resource center, Norton Healthcare recently announced that it will build the first hospital in West Louisville in more than 100 years on the Opportunity Campus. Collectively, the two projects on the campus will bring more than 300 full-time jobs to West Louisville with average salaries of approximately $60,000.
Goodwill's Opportunity Center on the campus is expected to serve more than 50,000 people every year and help place more than 600 job seekers into full-time employment with businesses throughout the region that pay a minimum of $13 per hour – creating a cumulative annual impact of $18.7 million.
Goodwill also announced it would revamp and rebrand current resource centers as "Opportunity Centers" and establish new locations throughout the commonwealth. By next year, the nonprofit plans to have 11 Centers opened in Bowling Green, Corbin, Elizabethtown, downtown Louisville, Lexington, Morehead, Paducah, Pikeville, Somerset, South Louisville and West Louisville.
Without its generous donors, none of these projects to reduce poverty would be possible. To help support the Opportunity Campus, Goodwill asks all donors who are interested in donating monetarily to support its capital campaign, "Opportunity is Knocking." The campaign has a goal to raise $15 million by the end of 2023 to help fund the projects that will serve Kentucky's most underserved communities.
Here's how you can donate:
Visiting GoodwillWestLouisville.com
Texting GoodwillKY to 801801
Mailing a check to the Goodwill headquarters located at 1325 S. 4th Street, Louisville, KY 40208
These donations will support the West Louisville campus specifically. When individuals donate to stores and round-up at the register, they help fund the many programs and services Goodwill offers at its Centers, including but not limited to addiction treatment, job-readiness training, application and resume assistance, digital and financial literacy, transportation and housing assistance, legal and expungement assistance and behavioral, mental and spiritual health support.
About Goodwill Industries of Kentucky
Goodwill Industries of Kentucky is a 99-year-old nonprofit organization that operates in 103 of Kentucky's 120 counties. The organization is committed to using resources from its 67 retail stores to help build pathways out of poverty for individuals who need a hand up in life. In 2021, Goodwill helped place 2,636 Kentuckians into jobs with 871 of its employer partners and inside its own retail stores. Goodwill uses approximately 90 cents from every dollar generated in its retail stores to operate programs and services that help Kentucky's hardest-to-serve job seekers build the life they desire.