Stefphan Gholston, outreach specialist for Goodwill Industries of Kentucky's Another Way Program, was awarded the CleanLou Citizen Award by the Louisville Metro Public Works Department during the Metro Council meeting on Thursday.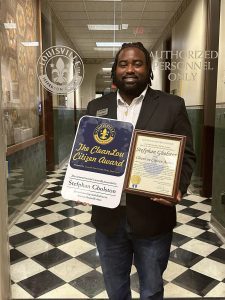 The CleanLou Citizen Award honors Louisvillians who make outstanding contributions to keep Louisville clean. Gholston is a key cog in Another Way's efforts to reduce poverty and promote cleanliness in the Louisville area. Through the program, he spearheads efforts to pick up unhoused individuals and offers them a chance to clean up the city at different worksites for $50, lunch and connections to resources at Goodwill's 909 East Broadway Opportunity Center.
Gholston has helped serve 1,312 individuals for the Another Way Program since its inception as a pilot program in 2019. It has connected 593 individuals to self-sufficiency resources, transported 62 individuals to substance abuse/mental health treatment facilities, placed 126 in temporary-to-permanent housing and helped 133 find employment. The program started with one van but now operates three and has a seven-member team.
Watch Stefphan receive the award here, at the 12-minute mark: Watch 
Learn more about the Another Way Program here: Media Roundup – Mayor Greenberg gets firsthand look at Another Way Program's impact to City of Louisville