When Alishia had her firstborn child, a son, he experienced medical complications. That forced her to take time off from work. Eventually, she made the decision to go back to school.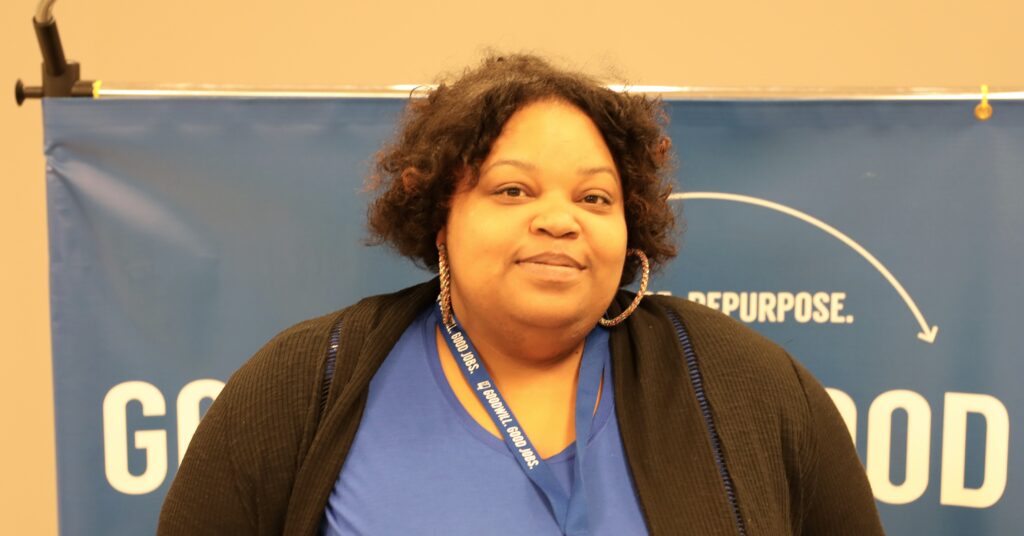 Before going back to school, Alishia went through the KentuckianaWorks Power of Work program, which is operated by Goodwill Industries of Kentucky. Power of Work matches Kentuckians transitioning off government assistance with employers who need eager, prepared employees.
Power of Work career coaches meet one-on-one with participants to ease the transition into employment. Alishia said her career coach, Henrietta, helped her find an internship after she graduated.
"I navigated through the program, graduated from U of L, and Henrietta helped me get my internship with the Louisville Fire Department," she said. "They were so awesome. They answered any questions I had. I struggled to find that internship. I'm a little older than most college students. … I had a great experience."
After graduating from the University of Louisville, Alishia got her master's degree at Spalding University. As she was applying for jobs after that, she couldn't help but notice Goodwill was hiring. She was hired as a talent acquisition specialist.
"When I was applying for different positions, I was like, 'I've always liked Goodwill,'" she said. "Honestly, I didn't make the connection to Power of Work. Once I got here and acclimated, I realized I was someone who has benefitted from the program. Being someone who has been through the program and now working here, I really believe in the mission."
Now, Alishia works with the human resources team to find employees that will build on Goodwill's mission to serve the underserved. She said Goodwill and Power of Work "exceeded her expectations" along the way.
"I can say, 'Hey, I know it works. Because it worked for me,'" she said. "People from Power of Work don't even know how big of an inspiration they were to me."
Alishia now has two children, 13 and 8, who have watched her graduate twice and achieve other milestones. She said she hopes it inspires them to achieve their goals.
"Him watching me go through the process, it made him try harder with his schoolwork and his studies," she said. "Hopefully, this makes them say, 'Hey, mom did it, so we can do it and go a little further.'"